A four-wheel drive car for the 36th Konotop road rehabilitation regiment
Published:
11 October 2023, 11:50

The 36th Konotop Road Rehabilitation Regiment was established on April 1, 2014. The historical beginning of the formation of the first units dates back to July 12, 1941, when the 36th separate railway brigade was created. From the moment of its establishment to the present, the regiment is responsible for ensuring the proper functioning of critical infrastructure, including the rehabilitation of roads, bridges and the provision of combat brigades.
During the anti-terrorist operation, the regiment intensified work on military infrastructure. In July 2014, the 36th regiment neutralized 636 explosive devices, inspected more than 200 kilometers of railway tracks and 110 artificial structures on the Donetsk railway. These operations were carried out immediately after the liberation of Slovyansk from enemy control by the Armed Forces of Ukraine.
From 2014 to 2015, the regiment was engaged in strengthening and engineering the positions of units of the Armed Forces of Ukraine in the Donetsk and Luhansk regions. They equipped 621 strongpoints and firing positions, organized 17,082 meters of trenches and 1,974 dugouts, and also performed combat tasks for the protection and defense of important infrastructure facilities.
In response to the full-scale invasion of the Rashists in 2022, the 36th Konotop ShVP performed the task of providing material support and equipping defensive positions of units and formations of the Armed Forces of Ukraine in the Zaporizhzhia and Donetsk regions. In addition, they were on combat duty at checkpoints.
Having successfully restored the first bridges in Kyiv region, the regiment began rebuilding bridges in Chernihiv, Kharkiv and Sumy regions. After the liberation of the Mykolaiv and Kherson regions from the Russian occupiers, the track battalion focused on restoring the transport infrastructure of these regions.
Their efforts significantly contributed to the revival of the economic and transport infrastructure of Ukraine. To date, the 36th Konotop Regiment has an impressive track record of restoring and commissioning 33 infrastructure facilities during a full-scale invasion.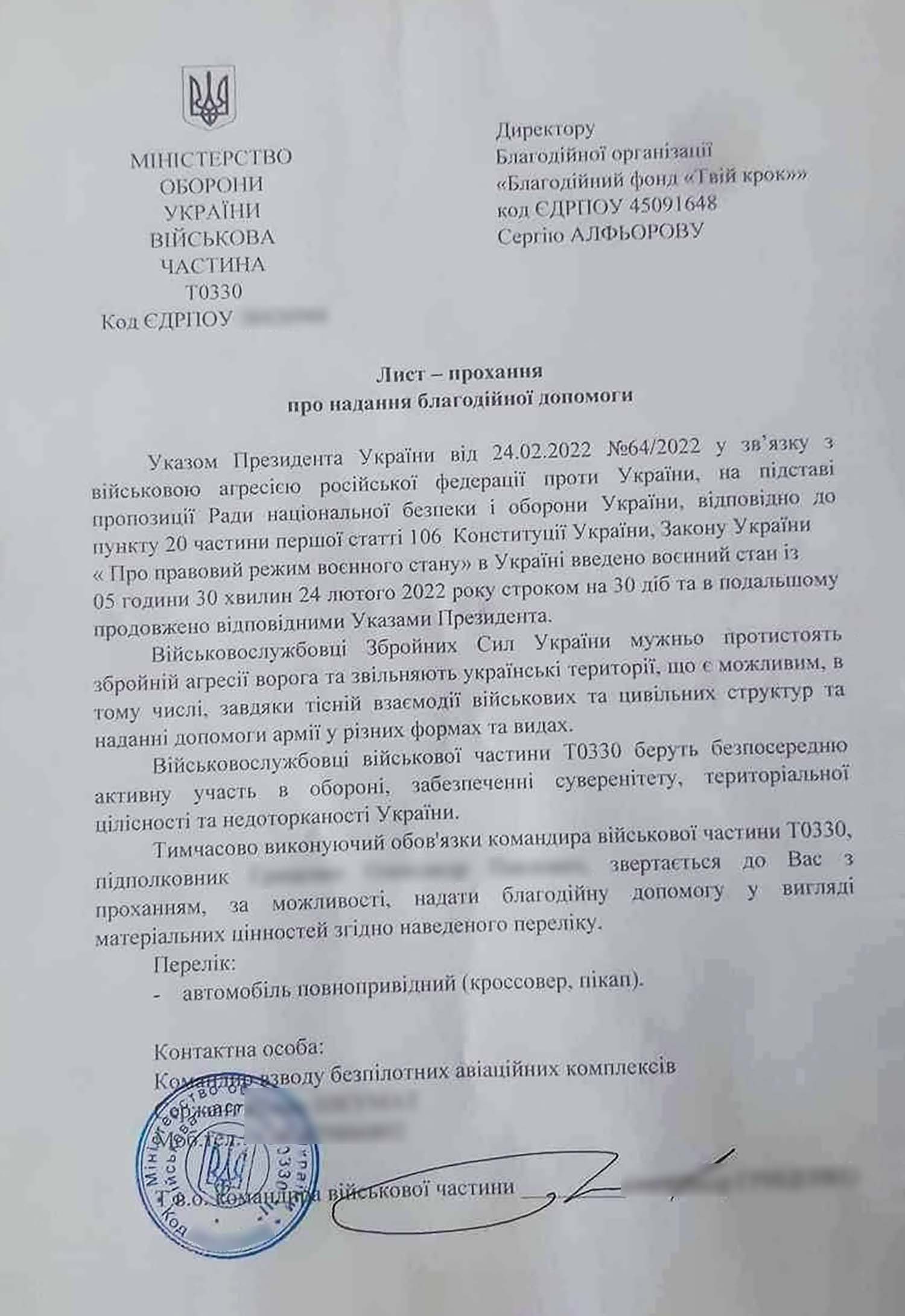 We are announcing a collection for a four-wheel drive car for the 36th Konotopsky Road Rehabilitation Regiment.
Join our initiative and help the military have everything they need to complete their missions. Every hryvnia you donate will be a significant contribution to ensuring the safety of our military. Together we will be able to help the defenders of Ukraine and thank them for their courage and self-sacrifice.
Take your step to WIN!
Video for the project
| Date | Email | Amount |
| --- | --- | --- |
| 2023-12-04 17:31:56 | t********k@ukr.net | 5 UAH |
| 2023-12-03 03:23:32 | t********k@ukr.net | 50 UAH |
| 2023-12-01 21:52:17 | t********k@ukr.net | 14 UAH |
| 2023-12-01 08:25:14 | t********k@ukr.net | 14 UAH |
| 2023-11-30 06:25:22 | v********a@ukr.net | 150 UAH |
| 2023-11-29 18:17:02 | k********a@ukr.net | 150 UAH |
| 2023-11-29 16:36:16 | t********k@ukr.net | 1 UAH |
| 2023-11-29 00:06:59 | t********k@ukr.net | 150 UAH |
| 2023-11-28 11:09:54 | t********k@ukr.net | 3 UAH |
| 2023-11-27 12:49:52 | t********k@ukr.net | 1 UAH |
| 2023-11-27 12:48:46 | t********k@ukr.net | 1 UAH |
| 2023-11-27 10:48:19 | t********k@ukr.net | 150 UAH |
| 2023-11-25 14:54:17 | o********o@gmail.com | 150 UAH |
| 2023-11-24 22:20:26 | t********k@ukr.net | 50 UAH |
| 2023-11-24 19:15:20 | t********k@ukr.net | 1000 UAH |