Conversion of a pickup truck into a mobile workshop for the 5th separate assault brigade of the Armed Forces of Ukraine
Published:
04 October 2023, 10:42

The 5th Separate Assault Brigade (5 OShBr, military unit A4010) is a brigade-sized infantry-assault mechanized unit of the Ground Forces of Ukraine. He reports directly to the commander of the ground forces. The compound is equipped mainly with Western weapons.
The formation of the regiment took place in the area of responsibility of the Operational Command "North".
The regiment took part in the battles for the Lysychansky Refinery, Siversk, Vuglegirsk TPP and the battles for Mayorske.
In October 2022, the regiment was involved in the Battle of Bakhmut, where it fought alongside the Marines of Ukraine and the forces of the National Guard.
In 2023, the regiment replenished the "Aidar" battalion, as a result of which it was reformed into the 5th separate assault brigade, and on February 24, the brigade was awarded a battle banner.
On September 17, 2023, together with the 80th separate amphibious assault brigade and the separate assault brigade of the NPU "Lyut", it liberated the village of Klishchiivka, which is located near Bakhmut.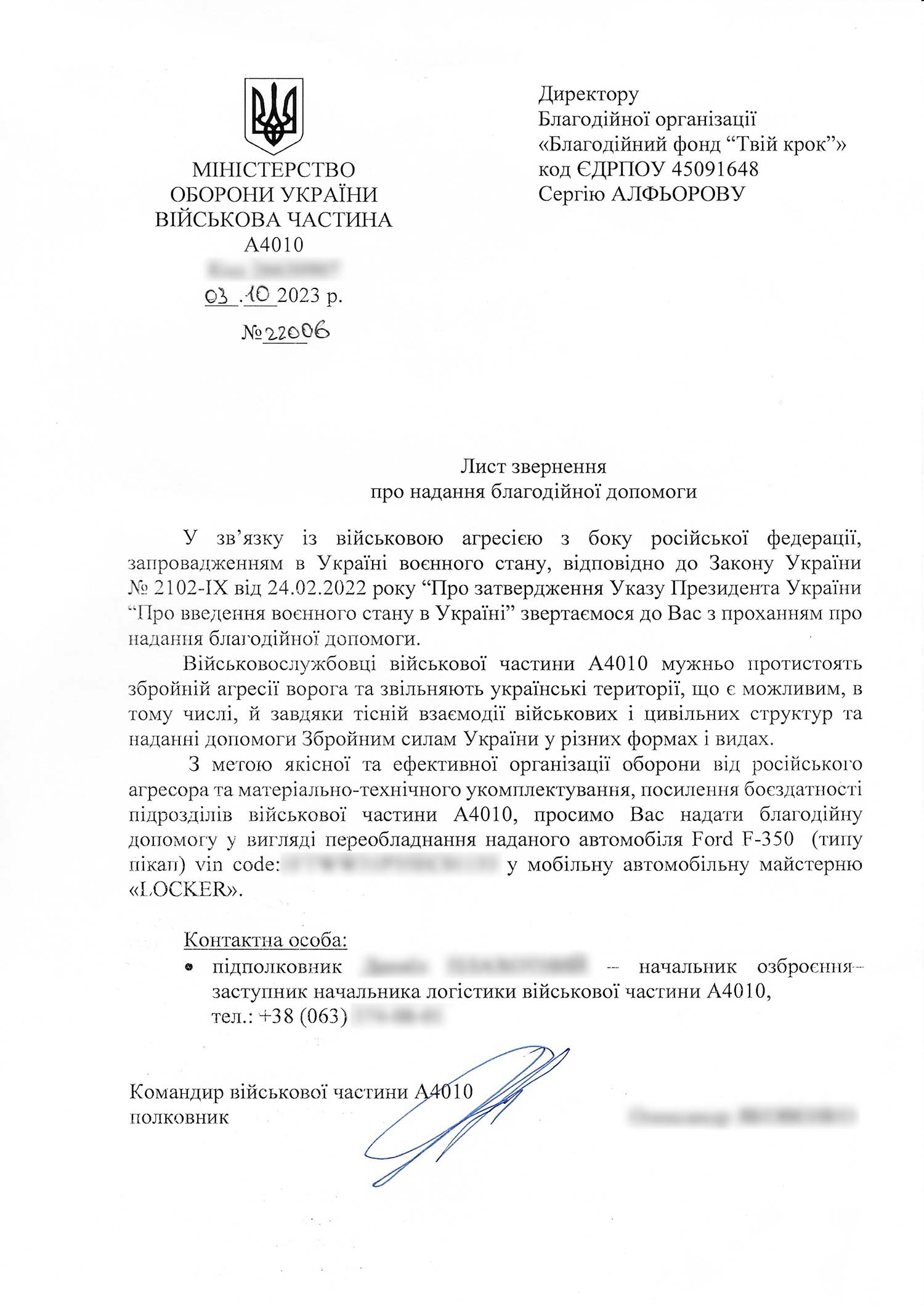 The charity fund TVIY KROK announces the collection of funds for the conversion of a Ford F-350 pickup truck into a mobile workshop for the 5th separate assault brigade of the Armed Forces of Ukraine.
These mobile workshops are designed for maintenance and repair of universal automotive equipment of various models, in particular, for multi-purpose wheeled vehicles.
They will significantly increase the capabilities and potential for the repair and maintenance of armored vehicles and vehicles, which are transferred to Ukraine as military-technical assistance.
This is a ready-made complex solution, thanks to which the repair and maintenance of equipment can be carried out in a matter of hours and not far from the front line.
The workshop is equipped with everything necessary for quick repairs on automotive equipment, even in field conditions. The machines are equipped with tire mounting equipment, generator, welding, starting and charging device, pneumatic system, tools and other critical equipment and a comfortable workplace.
Take your step to WIN!
Video for the project
| Date | Email | Amount |
| --- | --- | --- |
| 2023-12-05 11:42:58 | s********9@gmail.com | 20 UAH |
| 2023-12-05 11:40:27 | t********k@ukr.net | 150 UAH |
| 2023-12-05 11:15:56 | l********v@gmail.com | 150 UAH |
| 2023-12-05 11:11:49 | n********h@gmail.com | 150 UAH |
| 2023-12-05 11:11:49 | n********h@gmail.com | 150 UAH |
| 2023-12-05 11:11:05 | t********k@ukr.net | 18 UAH |
| 2023-12-05 11:04:12 | t********k@ukr.net | 20 UAH |
| 2023-12-05 10:53:18 | z********j@gmail.com | 450 UAH |
| 2023-12-05 10:44:52 | t********k@ukr.net | 150 UAH |
| 2023-12-05 10:44:26 | g********w@i.ua | 150 UAH |
| 2023-12-05 10:39:24 | t********k@ukr.net | 150 UAH |
| 2023-12-05 10:35:18 | t********k@ukr.net | 150 UAH |
| 2023-12-05 10:11:59 | t********k@ukr.net | 10 UAH |
| 2023-12-05 10:09:35 | l********a@gmail.com | 950 UAH |
| 2023-12-05 10:01:34 | l********n@gmail.com | 46 UAH |