Mobile workshops for repairing army equipment for marines A2777 of the Armed Forces of Ukraine
Published:
12 July 2023, 15:14

For the defenders from the 1st separate battalion of the marines of the military unit A2777 of the Armed Forces of Ukraine, who are currently in the Zaporizhzhia region and are defending our land from invaders and are in great need of a mobile workshop.
These mobile workshops are designed for maintenance and repair of various types of automotive equipment, including wheeled vehicles.
They will make it possible to improve the capabilities and potential for the repair and maintenance of armored vehicles and vehicles, which Ukraine receives as military-technical assistance.
It is a ready-made comprehensive solution that allows repair and maintenance of equipment in just a few hours, not far from the front line.
The workshop is equipped with the necessary equipment for quick repair of automotive equipment even in field conditions. The machines have tire mounting equipment, a generator, a welding machine, a starter-charger, a pneumatic system, tools and other necessary equipment for comfortable work.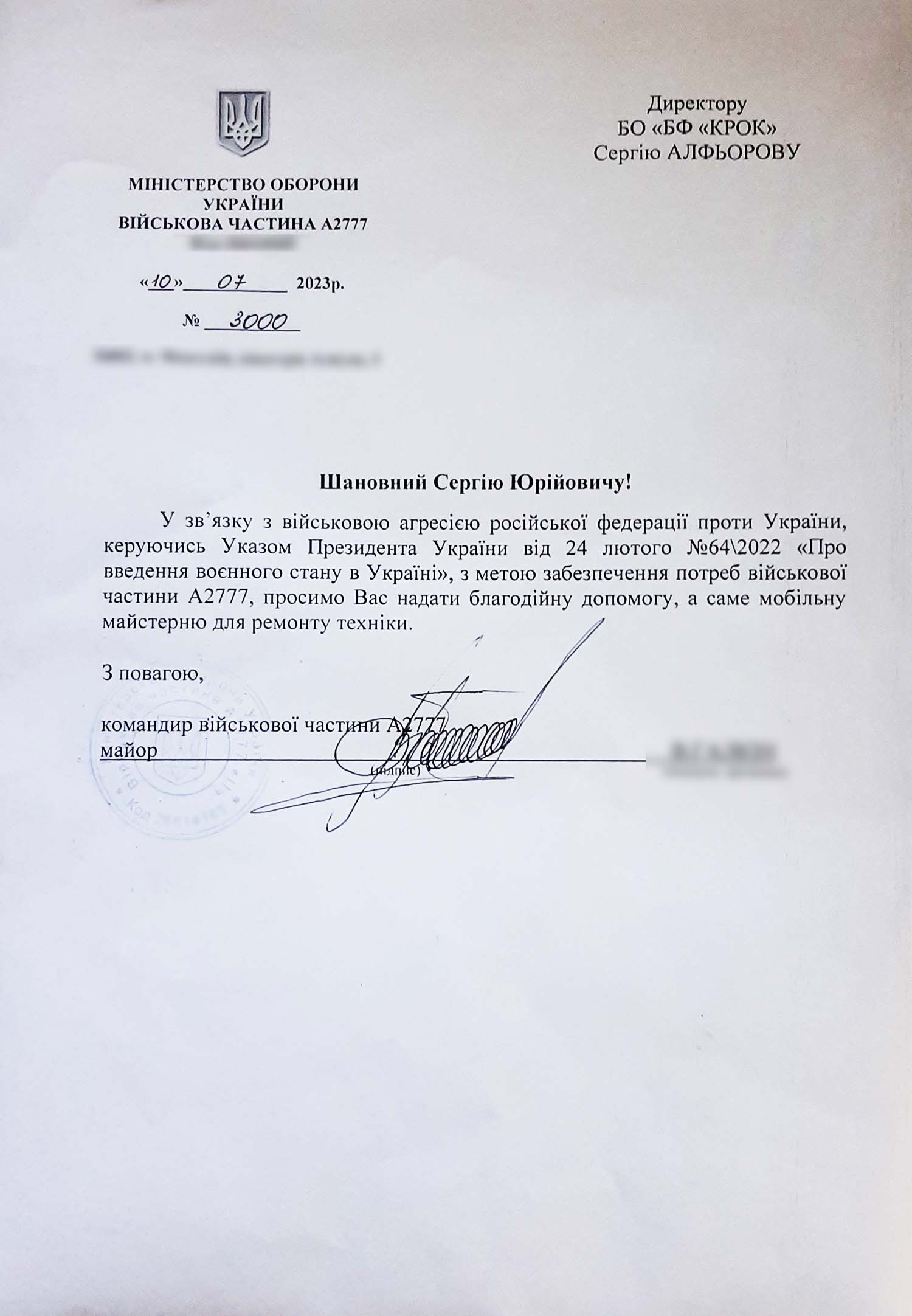 The charity fund TVIY KROK announces the collection of funds for a mobile workshop based on a pickup truck to be handed over to the 1st separate battalion of marines of military unit A2777 of the Armed Forces of Ukraine.
Take your step to WIN!
Video for the project
| Date | Email | Amount |
| --- | --- | --- |
| 2023-12-05 10:01:11 | t********k@ukr.net | 5 UAH |
| 2023-12-05 09:22:22 | t********k@ukr.net | 500 UAH |
| 2023-12-05 00:55:44 | t********k@ukr.net | 200 UAH |
| 2023-12-04 21:46:02 | t********k@ukr.net | 150 UAH |
| 2023-12-04 21:08:54 | t********k@ukr.net | 150 UAH |
| 2023-12-04 19:34:35 | t********k@ukr.net | 450 UAH |
| 2023-12-04 19:34:09 | t********k@ukr.net | 150 UAH |
| 2023-12-04 19:06:22 | t********k@ukr.net | 50 UAH |
| 2023-12-04 19:02:28 | t********k@ukr.net | 150 UAH |
| 2023-12-04 13:39:09 | t********k@ukr.net | 150 UAH |
| 2023-12-04 10:53:46 | t********k@ukr.net | 450 UAH |
| 2023-12-04 10:48:25 | s********n@gmail.com | 150 UAH |
| 2023-12-04 10:27:30 | t********k@ukr.net | 50 UAH |
| 2023-12-04 08:51:19 | t********k@ukr.net | 150 UAH |
| 2023-12-04 07:45:44 | t********k@ukr.net | 150 UAH |