Mobile workshop for the repair of equipment for the 47th separate mechanized brigade of the Armed Forces of Ukraine
Published:
04 September 2023, 15:13
The 47th separate mechanized brigade "Magura" (47 OMBr, military unit A4699) is a military formation of the Armed Forces of Ukraine with a brigade size.
In the spring of 2022, after a full-scale Russian invasion, a battalion of civilian volunteers and military personnel from other units was created, who were interviewed and selected. In the summer, the battalion took part in battles near the Vuglehirskaya TPP.
In the fall of 2022, the battalion was expanded to an assault regiment, and already in November to a brigade.
At the beginning of June 2023, the 47th separate mechanized brigade was assigned a difficult and important task - to break through the Russian defenses in Zaporizhzhia from Orichov and Malaya Tokmachka along the front line in the direction of the city of Tokmak.
The Russian military set up several lines of defense and laid many minefields in the path of the offensive of the Ukrainian forces. Ukrainian forces were also attacked by enemy combat aircraft.
On August 21-22, after two months of fierce fighting, the soldiers of the brigade entered the village of Robotine, breaking through the first line of defense of the Russian occupation forces.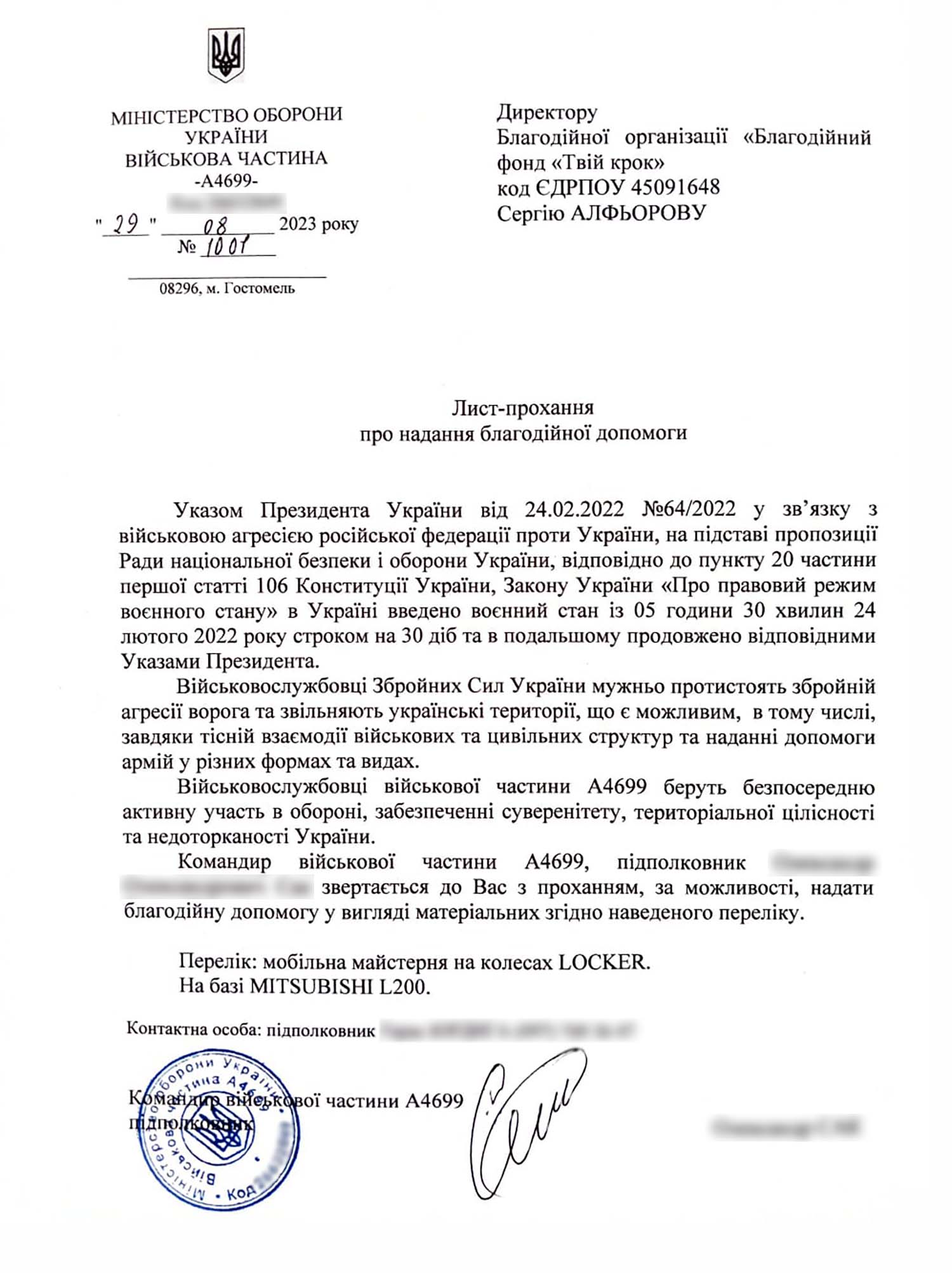 For defenders from the 47th separate mechanized brigade of the Armed Forces of Ukraine, who are currently defending our land from invaders and are in dire need of a mobile workshop, we are announcing a collection.
These mobile workshops are designed for maintenance and repair of various types of automotive equipment, including wheeled vehicles.
They will make it possible to improve the capabilities and potential for the repair and maintenance of armored vehicles and vehicles, which Ukraine receives as military-technical assistance.
It is a ready-made comprehensive solution that allows repair and maintenance of equipment in just a few hours, not far from the front line.
The workshop is equipped with the necessary equipment for quick repair of automotive equipment even in field conditions. The machines have tire mounting equipment, a generator, a welding machine, a starter-charger, a pneumatic system, tools and other necessary equipment for comfortable work.
Take your step to WIN!
Video for the project
| Date | Email | Amount |
| --- | --- | --- |
| 2023-12-05 08:37:17 | t********k@ukr.net | 250 UAH |
| 2023-12-04 22:14:47 | t********k@ukr.net | 150 UAH |
| 2023-12-04 21:37:59 | t********k@ukr.net | 450 UAH |
| 2023-12-04 19:52:08 | t********k@ukr.net | 150 UAH |
| 2023-12-04 17:10:26 | t********k@ukr.net | 150 UAH |
| 2023-12-04 11:21:44 | t********k@ukr.net | 150 UAH |
| 2023-12-04 10:10:25 | t********k@ukr.net | 1000 UAH |
| 2023-12-04 09:47:15 | l********k@bigmir.net | 50 UAH |
| 2023-12-04 07:46:59 | t********k@ukr.net | 150 UAH |
| 2023-12-04 06:58:06 | t********k@ukr.net | 20 UAH |
| 2023-12-03 23:16:15 | t********k@ukr.net | 150 UAH |
| 2023-12-03 12:27:33 | t********k@ukr.net | 150 UAH |
| 2023-12-03 12:00:47 | t********k@ukr.net | 200 UAH |
| 2023-12-03 11:01:34 | t********k@ukr.net | 150 UAH |
| 2023-12-03 10:36:09 | v********y@yahoo.com | 450 UAH |