Conversion of a pickup truck into a mobile workshop for the 4th Special Assault Squad of OMEGA NGU
Published:
13 November 2023, 14:39

Separate special-purpose unit "Omega" (from the Greek ωμέγα) is a special-purpose unit of the Special Purpose Center of the National Guard of Ukraine (military unit 3073), created primarily to fight terrorism on the territory of Ukraine, and since 2014 has been involved in active combat actions in the Russian-Ukrainian war.
The main task of the detachment is to protect and protect the lives, rights, freedoms and legitimate interests of citizens, society and the state from criminal and other illegal encroachments, in cooperation with law enforcement agencies to ensure state security and the protection of the state border, to stop terrorist activities, the activities of illegal paramilitary or armed groups (groups), terrorist organizations, organized groups and criminal organizations, participation in repelling armed aggression against Ukraine.
The servicemen of the National Guard of Ukraine courageously resist the armed aggression of the enemy and liberate Ukrainian territories, which is possible, including, thanks to the close cooperation of military and civilian structures and the provision of assistance to the army in various forms and types.
Servicemen of the 4th Special Assault Squad OMEGA of the National Guard of Ukraine take direct lessons in defense, ensuring the sovereignty, territorial integrity and inviolability of Ukraine.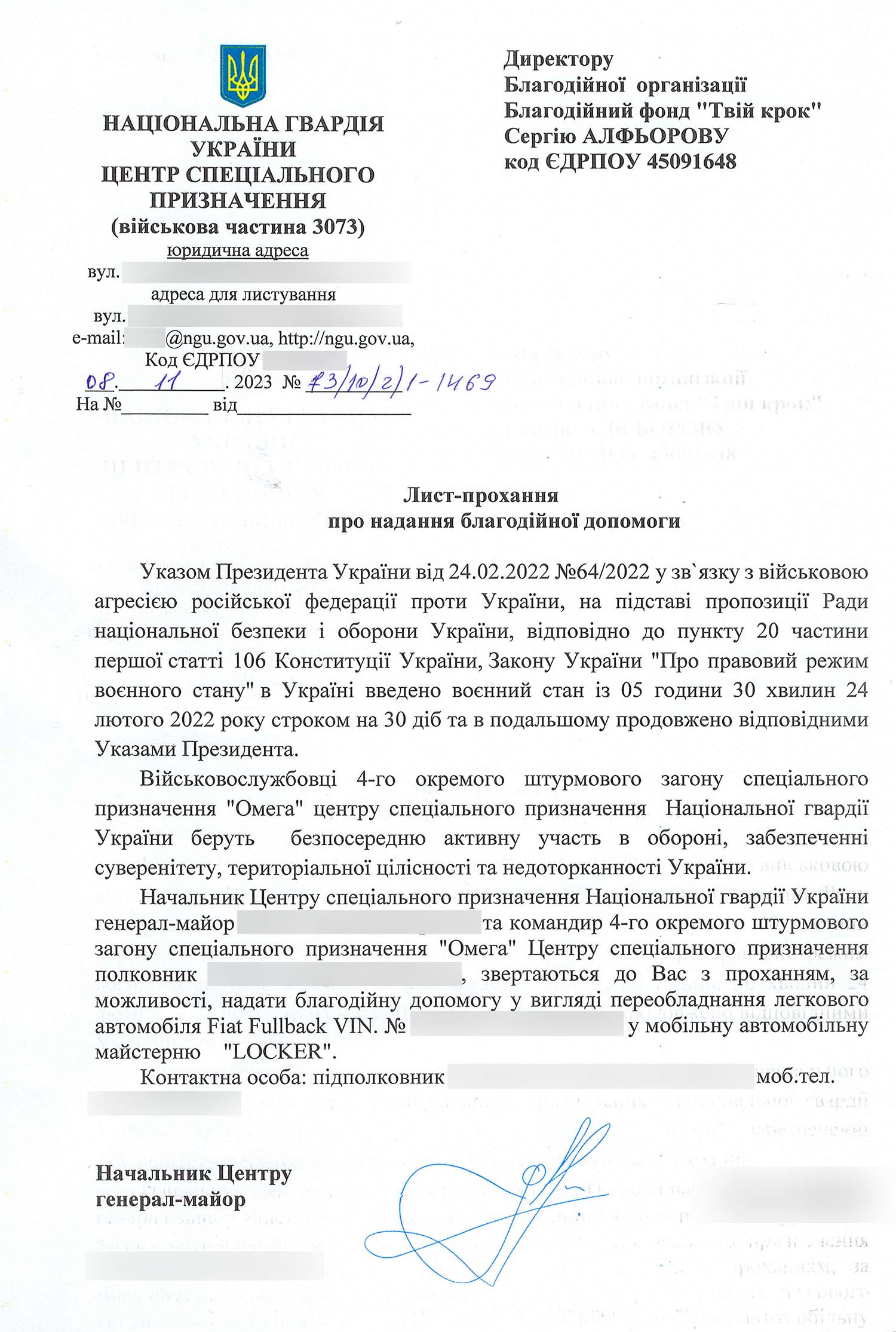 The charity fund TVIY KROK announces a fundraiser for the conversion of a Fiat Fullback pickup truck into a mobile workshop for the 4th Special Assault Squad of OMEGA NSU.
These mobile workshops are designed for maintenance and repair of universal automotive equipment of various models, in particular, for multi-purpose wheeled vehicles.
They will significantly increase the capabilities and potential for the repair and maintenance of armored vehicles and vehicles, which are transferred to Ukraine as military-technical assistance.
This is a ready-made complex solution, thanks to which the repair and maintenance of equipment can be carried out in a matter of hours and not far from the front line.
The workshop is equipped with everything necessary for quick repairs on automotive equipment, even in field conditions. The machines are equipped with tire mounting equipment, generator, welding, starting and charging device, pneumatic system, tools and other critical equipment and a comfortable workplace.
Take your step to WIN!
Video for the project
| Date | Email | Amount |
| --- | --- | --- |
| 2023-12-05 08:40:48 | t********k@ukr.net | 150 UAH |
| 2023-12-05 00:40:34 | t********k@ukr.net | 150 UAH |
| 2023-12-04 20:55:53 | t********k@ukr.net | 10 UAH |
| 2023-12-04 19:16:59 | r********2@gmail.com | 1300 UAH |
| 2023-12-04 18:58:17 | t********k@ukr.net | 450 UAH |
| 2023-12-04 18:38:02 | m********2@gmail.com | 150 UAH |
| 2023-12-04 13:10:43 | b********4@gmail.com | 20 UAH |
| 2023-12-04 09:57:48 | t********k@ukr.net | 150 UAH |
| 2023-12-04 09:26:45 | r********2@gmail.com | 800 UAH |
| 2023-12-04 09:16:19 | r********2@gmail.com | 600 UAH |
| 2023-12-04 08:42:31 | t********k@ukr.net | 50 UAH |
| 2023-12-04 05:30:17 | t********k@ukr.net | 20 UAH |
| 2023-12-03 21:59:14 | t********k@ukr.net | 150 UAH |
| 2023-12-03 19:30:14 | m********4@gmail.com | 300 UAH |
| 2023-12-03 19:12:17 | g********v@gmail.com | 450 UAH |