Converting pickup truck into a mobile workshop and a universal tank in a container for the 45th OAB
Published:
07 November 2023, 17:49

The 45th Separate Artillery Brigade (45th OABr, military unit A2943) is a unit of the Missile Forces and Artillery of the Ground Forces of the Armed Forces of Ukraine.
The brigade was created in 2016 as a part of the Reserve Corps on the basis of the National Academy of Ground Forces named after Hetman Petro Sahaidachny. Since the day of its creation, the brigade has been stationed in the Yavoriv district of the Lviv region.
Since the beginning of the full-scale invasion of Russia, the brigade and its divisions heroically defended Kyiv, Zaporizhzhya, Dnipropetrovsk, and Kharkiv regions, and inflicted losses on the enemy in Donetsk, Luhansk, and Kherson regions.
Units of the brigade participated in the Kharkiv offensive operation and the operation to liberate Kherson region and Mykolaiv region.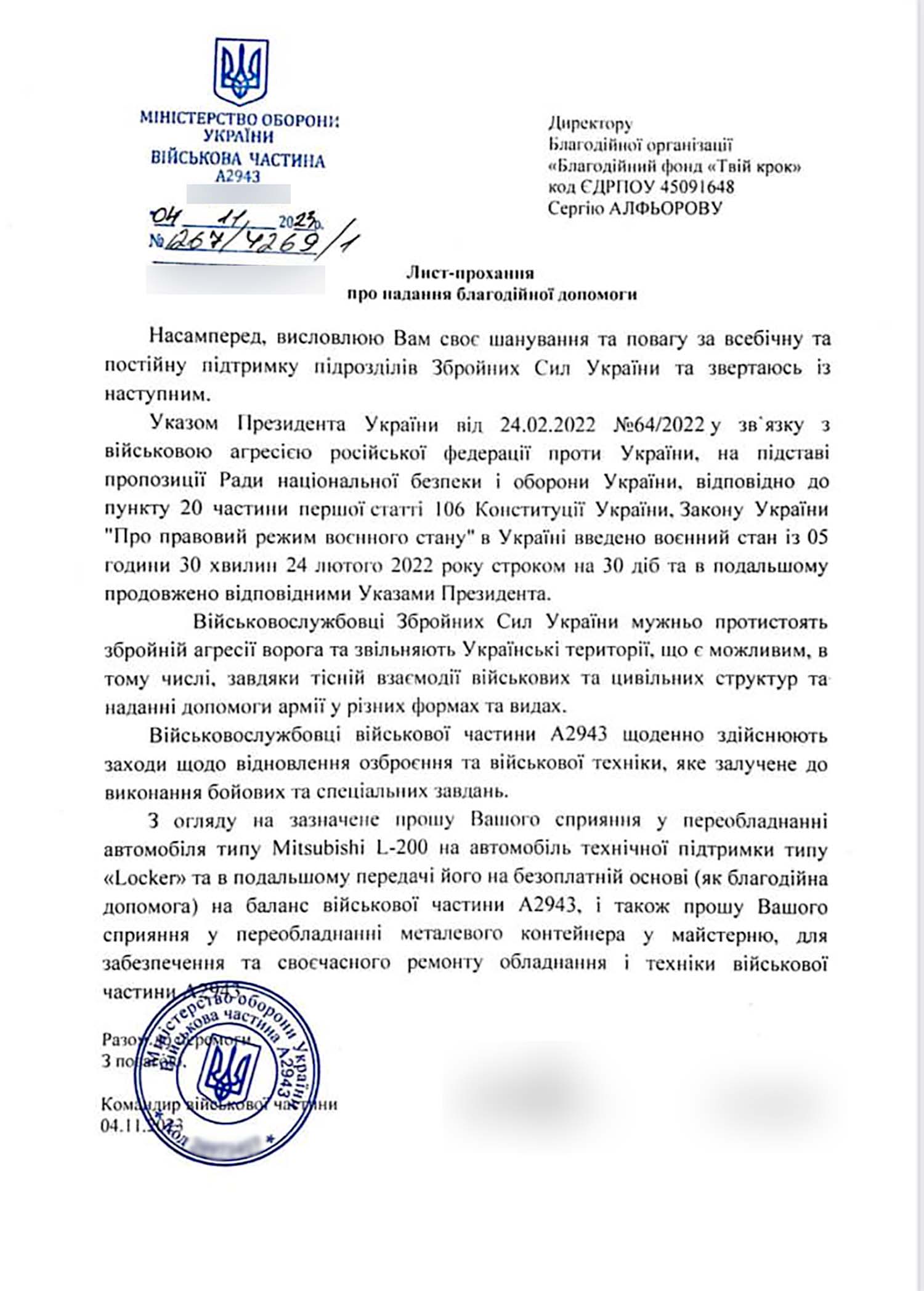 The TVIY KROK charitable foundation announces a fundraiser for the conversion of a Mitsubishi L200 pickup truck into a mobile workshop and a separate universal mobile workshop in a container for the 45th separate artillery brigade of the Armed Forces of Ukraine.
These mobile workshops are designed for maintenance and repair of universal automotive equipment of various models, in particular, for multi-purpose wheeled vehicles.
They will significantly increase the capabilities and potential for the repair and maintenance of armored vehicles and vehicles, which are transferred to Ukraine as military-technical assistance.
This is a ready-made complex solution, thanks to which the repair and maintenance of equipment can be carried out in a matter of hours and not far from the front line.
The workshop is equipped with everything necessary for quick repairs on automotive equipment, even in field conditions. The machines are equipped with tire mounting equipment, generator, welding, starting and charging device, pneumatic system, tools and other critical equipment and a comfortable workplace.
Take your step to WIN!
| Date | Email | Amount |
| --- | --- | --- |
| 2023-12-01 22:06:19 | t********k@ukr.net | 14 UAH |
| 2023-12-01 21:44:11 | t********k@ukr.net | 300 UAH |
| 2023-11-28 11:14:09 | t********k@ukr.net | 3 UAH |
| 2023-11-27 12:47:46 | t********k@ukr.net | 1 UAH |
| 2023-11-24 00:29:21 | t********k@ukr.net | 150 UAH |
| 2023-11-24 00:29:21 | t********k@ukr.net | 150 UAH |
| 2023-11-21 18:11:55 | t********k@ukr.net | 1 UAH |
| 2023-11-19 09:24:58 | m********0@gmail.com | 300 UAH |
| 2023-11-16 11:43:57 | t********k@ukr.net | 15 UAH |
| 2023-11-16 01:27:34 | e********8@gmail.com | 100 UAH |
| 2023-11-11 14:11:55 | t********3@gmail.com | 150 UAH |
| 2023-11-10 07:31:10 | f********5@gmail.com | 150 UAH |
| 2023-11-09 21:45:02 | t********k@ukr.net | 10 UAH |
| 2023-11-09 17:02:15 | t********k@ukr.net | 450 UAH |
| 2023-11-09 09:58:22 | t********k@ukr.net | 150 UAH |